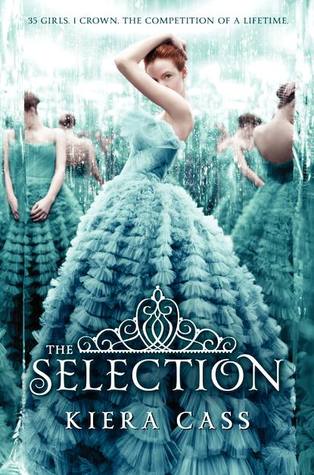 "
For thirty-five girls, the Selection is the chance of a lifetime. The opportunity to escape the life laid out for them since birth. To be swept up in a world of glittering gowns and priceless jewels. To live in a palace and compete for the heart of gorgeous Prince Maxon.

But for America Singer, being Selected is a nightmare. It means turning her back on her secret love with Aspen, who is a caste below her. Leaving her home to enter a fierce competition for a crown she doesn't want. Living in a palace that is constantly threatened by violent rebel attacks.

Then America meets Prince Maxon. Gradually, she starts to question all the plans she's made for herself--and realizes that the life she's always dreamed of may not compare to a future she never imagined." (Goodreads)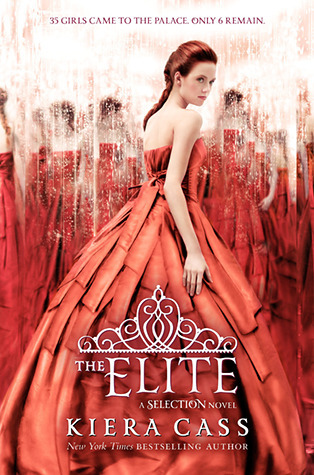 "The Selection began with thirty-five girls.
Now with the group narrowed down to the six Elite, the competition to win Prince Maxon's heart is fiercer than ever—and America is still struggling to decide where her heart truly lies. Is it with Maxon, who could make her life a fairy tale? Or with her first love, Aspen?

America is desperate for more time. But the rest of the Elite know exactly what they want—and America's chance to choose is about to slip away."
(Goodreads)

*This is a review for both The Selection and The Elite*
Author: Kiera Cass
Type: Young Adult
Genre: Dystopian
Tea: Early Grey, something you've had before, but has an air of sophistication
Rating: 4 out of 5 stars.
This series starts off with The Selection, which is an Abraham Lincoln Award nominee, which is voted upon by students. The premise intrigued me, and it can be best described as a hybrid of The Hunger Games and The Bachelor. It may not seem like a fight for their life to many, but to America Singer, the Selection is the only way to save her family.
This is another dystopian series, but it is definitely different than many that are seen on the shelves today. We see what the United States, and the world itself, has turned into in "our future". There is a class system in place and each class has a specific duty to perform. By entering the Selection, and possibly marrying the prince of Illea, America can secure her and her family's future.
This novel is more than girls prancing around in dresses and trying to get a guy's attention. Kiera Cass writes about the rebellion against the crown from two factions, the North and the South. You learn of their differences and what they want from the capital of their country. You also see how the characters deal with it and how it is something the girls need to take into account if they want to be the princess, and one day the queen. In The Elite you get some more insight into the two different factions, but you don't get all your answers right away, leaving you clamoring for The One (which I still am, as I'm a little ways down the hold list!).
The only thing I dislike about this novel is the love triangle. I understand why it's in there, since it would be too easy for America to simply love Prince Maxon right away. But the other point of the triangle, Aspen, is a horrid character. He's terrible to America, but when they try to reconcile, he makes her feel like she's been the one in the wrong, and she totally goes along with it. She's constantly apologizing and he's just like "Yeah, it's cool" like he didn't do anything. Every time I see his name on a page, I groan. I can't wait to see if he's gone, I sure hope so! Also, his hair being described as "stringy" did absolutely nothing to lend him an appearance of beauty.
I'm definitely intrigued by these and I am looking forward to reading The One and seeing how Kiera Cass ties up this tale. She also has two short stories entitled The Prince and The Guard, which I am looking forward to reading.
If you're looking for a different, but more lighthearted dystopian, check these out!