Hey everyone! It's Sunday again. This week's Sunday Funday List is the Top 10 Historical Fiction Novels! Whether it's realistic fiction, fantasy or mystery, it might make its way onto this list. Historical fiction is one of my favorite genres and can't get enough of it. In no particular order, here are some of my favorites (all synopses from
Goodreads
):
1.
The Sweetness at the Bottom of the Pie
(Flavia de Luce #1)
by Alan Bradley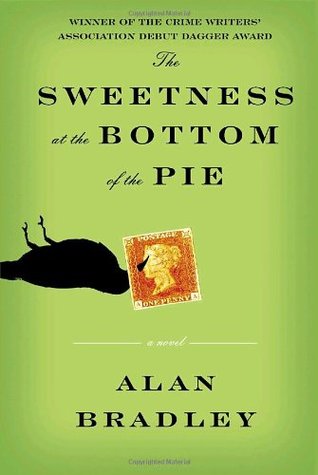 "
It is the summer of 1950–and at the once-grand mansion of Buckshaw, young Flavia de Luce, an aspiring chemist with a passion for poison, is intrigued by a series of inexplicable events: A dead bird is found on the doorstep, a postage stamp bizarrely pinned to its beak. Then, hours later, Flavia finds a man lying in the cucumber patch and watches him as he takes his dying breath.

For Flavia, who is both appalled and delighted, life begins in earnest when murder comes to Buckshaw. 'I wish I could say I was afraid, but I wasn't. Quite the contrary. This was by far the most interesting thing that had ever happened to me in my entire life.'"
Flavia de Luce is one of my all time favorite characters. She's the coolest eleven-year-old you'll ever meet. Her mysteries are intriguing and she's incredibly smart. You get a great sense of 1950's England from her stories. Alan Bradley's description really brings this world to life. The following novels in the series continue this fantastic story of this amazing young girl.
2. The Tea Rose (The Tea Rose #1) by Jennifer Donnelly
"
East London, 1888 - a city apart. A place of shadow and light where thieves, whores, and dreamers mingle, where children play in the cobbled streets by day and a killer stalks at night, where bright hopes meet the darkest truths. Here, by the whispering waters of the Thames, Fiona Finnegan, a worker in a tea factory, hopes to own a shop one day, together with her lifelong love, Joe Bristow, a costermonger's son. With nothing but their faith in each other to spur them on, Fiona and Joe struggle, save, and sacrifice to achieve their dreams.

But Fiona's life is shattered when the actions of a dark and brutal man take from her nearly everything-and everyone-she holds dear. Fearing her own death, she is forced to flee London for New York. There, her indomitable spirit propels her rise from a modest West Side shop-front to the top of Manhattan's tea trade. But Fiona's old ghosts do not rest quietly, and to silence them, she must venture back to the London of her childhood, where a deadly confrontation with her past becomes the key to her future."
This story really took me by surprise! The premise intrigued me, but it was really so much more than I expected. It spans continents and years and lifetimes. It gives you a glimpse into life in London while Jack the Ripper prowled the streets. It lets you experience moving to America and trying to create a life for yourself. Such a great novel, and the second two, The Winter Rose and The Wild Rose, don't disappoint.
3. The House at Riverton by Kate Morton
"
Grace Bradley went to work at Riverton House as a servant when she was just a girl, before the First World War. For years her life was inextricably tied up with the Hartford family, most particularly the two daughters, Hannah and Emmeline.

In the summer of 1924, at a glittering society party held at the house, a young poet shot himself. The only witnesses were Hannah and Emmeline and only they -- and Grace -- know the truth.

In 1999, when Grace is ninety-eight years old and living out her last days in a nursing home, she is visited by a young director who is making a film about the events of that summer. She takes Grace back to Riverton House and reawakens her memories. Told in flashback, this is the story of Grace's youth during the last days of Edwardian aristocratic privilege shattered by war, of the vibrant twenties and the changes she witnessed as an entire way of life vanished forever."
All of Kate Morton's novels are fantastic, I had a hard time picking just one to put on this list. I had to though, otherwise four spots would be filled. Any fans of Downton Abbey will devour The House at Riverton. Kate Morton's descriptions are vivid and you feel as if you're there with the characters. The mystery is also very intriguing and just when you think you have it figured out, she throws you a curve ball. If you haven't read her, I highly recommend it. And read all of them!
4. The Rose Garden by Susanna Kearsley
"
'Whatever time we have,' he said, 'it will be time enough.'

Eva Ward returns to the only place she truly belongs, the old house on the Cornish coast, seeking happiness in memories of childhood summers. There she finds mysterious voices and hidden pathways that sweep her not only into the past, but also into the arms of a man who is not of her time.

But Eva must confront her own ghosts, as well as those of long ago. As she begins to question her place in the present, she comes to realize that she too must decide where she really belongs."
If you're looking for historical fiction, with some time travel, a little romance, some pirates and mystery thrown in, then look no further! This was my first Susanna Kearsley novel and it did not disappoint! Her melding of the two time periods is seamless and her description is beautiful. Can't wait to read more of her novels!
5. Soulless (The Parasol Protectorate #1) by Gail Carriger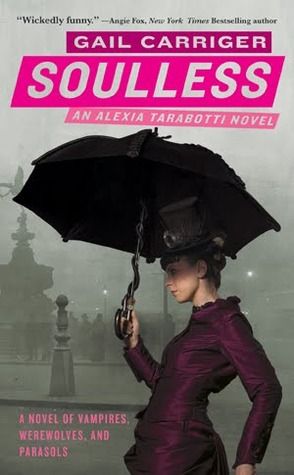 "
Alexia Tarabotti is laboring under a great many social tribulations.

First, she has no soul. Second, she's a spinster whose father is both Italian and dead. Third, she was rudely attacked by a vampire, breaking all standards of social etiquette.

Where to go from there? From bad to worse apparently, for Alexia accidentally kills the vampire--and then the appalling Lord Maccon (loud, messy, gorgeous, and werewolf) is sent by Queen Victoria to investigate.

With unexpected vampires appearing and expected vampires disappearing, everyone seems to believe Alexia responsible. Can she figure out what is actually happening to London's high society? Will her soulless ability to negate supernatural powers prove useful or just plain embarrassing? Finally, who is the real enemy, and do they have treacle tart?"
If you enjoy steampunk, or are going "WTF is steampunk?", then this is the book for you! It's great for fans and a great introduction to those who don't know what steampunk is. It's also a fun paranormal story. Alexia is not your average heroine. Gail Carriger writes with wit and creativity that are hard to find in other series. I highly recommend this series, as well as her YA Finishing School series, which is a prequel of sorts to these novels. She also has a series coming out in 2015 (YAY!) that takes place after this one. Read them, just do it.
6. Wideacre (Wideacre #1) by Philippa Gregory
"Beatrice Lacey, as strong-minded as she is beautiful, refuses to conform to the social customs of her time. Destined to lose her family name and beloved Wideacre estate once she is wed, Beatrice will use any means necessary to protect her ancestral heritage. Seduction, betrayal, even murder -- Beatrice's passion is without apology or conscience. "She is a Lacey of Wideacre," her father warns, "and whatever she does, however she behaves, will always be fitting." Yet even as Beatrice's scheming seems about to yield her dream, she is haunted by the one living person who knows the extent of her plans...and her capacity for evil.

Sumptuously set in Georgian England, Wideacre is intensely gripping, rich in texture, and full of color and authenticity. It is a saga as irresistible in its singular magic as its heroine."
From the queen of historical fiction, Philippa Gregory, best known for her Tudors series (i.e. The Other Boleyn Girl), comes an intriguing and captivating trilogy. This was my first novel by her and I instantly fell in love with it. It's more than just a favorite historical fiction novel, it's one of my favorites period. Her description and attention to detail are unparalleled. And her storytelling is fantastic. Not necessarily for the faint of heart as it is a rather twisted tale, but one that you can't stop thinking about once it's done! I HAD to start the second one as soon as I finished.
7. Lily's Crossing by Patricia Reilly Giff
When Lily meets Albert, a refugee from Hungary, during the summer of 1944, they begin a special friendship. However, Lily and Albert have both told lies, and Lily has told a lie that may cost Albert his life."
I love this book. I read it obsessively when I was younger and still think about it all the time. It's one of my favorite books ever. It's a great story and a very touching one. It's also a good way to introduce younger readers to that time and what it was like for kids during WWII.
8. Witch Child (Witch Child #1) by Celia Rees
Enter the world of young Mary Newbury, a world where simply being different can cost a person her life. Hidden until now in the pages of her diary, Mary's startling story begins in 1659, the year her beloved grandmother is hanged in the public square as a witch. Mary narrowly escapes a similar fate, only to face intolerance and new danger among the Puritans in the New World. How long can she hide her true identity? Will she ever find a place where her healing powers will not be feared?"
Another book I obsessively read. My copy is very well loved. Such an intriguing story and another great way to introduce younger readers to a time period. Celia Rees gives enough description to allow the reader to feel like they are there, but not to bore or overwhelm someone that isn't a big reader or isn't ready for that level yet. What a great story. Sadly the sequel, Sorceress, didn't quite hit the mark, at least for me.
9. Kite Runner by Khaled Hosseini
Amir is the son of a wealthy Kabul merchant, a member of the ruling caste of Pashums. Hassan, his servant and constant companion, is a Hazara, a despised and impoverished caste. Their uncommon bond is torn by Amir's choice to abandon his friend amidst the increasing ethnic, religious, and political tensions of the dying years of the Afghan monarchy, wrenching them far apart. But so strong is the bond between the two boys that Amir journeys back to a distant world, to try to right past wrongs against the only true friend he ever had.

The unforgettable, heartbreaking story of the unlikely friendship between a wealthy boy and the son of his father's servant, The Kite Runner is a beautifully crafted novel set in a country that is in the process of being destroyed. It is about the power of reading, the price of betrayal, and the possibility of redemption; and an exploration of the power of fathers over sons—their love, their sacrifices, their lies."
Oh man, what a book. I cried, oh did I cry. This story is beautiful and heart-wrenching. Khaled Hosseini writes in a way that you feel you're watching everything unfold over the main character's shoulder. You can't help but get wrapped up on this novel. I was reading it on the train and found myself yelling at it out loud, much to the confusion of several passengers. This is definitely a book to read.
10. Becoming Marie Antoinette (Marie Antoinette #1) by Juliet Grey
This enthralling confection of a novel, the first in a new trilogy, follows the transformation of a coddled Austrian archduchess into the reckless, powerful, beautiful queen Marie Antoinette.
'Why must it be me?' I wondered. 'When I am so clearly inadequate to my destiny?'

Raised alongside her numerous brothers and sisters by the formidable empress of Austria, ten-year-old Maria Antonia knew that her idyllic existence would one day be sacrificed to her mother's political ambitions. What she never anticipated was that the day in question would come so soon.

Before she can journey from sunlit picnics with her sisters in Vienna to the glitter, glamour, and gossip of Versailles, Antonia must change "everything" about herself in order to be accepted as dauphine of France and the wife of the awkward teenage boy who will one day be Louis XVI. Yet nothing can prepare her for the ingenuity and influence it will take to become queen.

Filled with smart history, treacherous rivalries, lavish clothes, and sparkling jewels, Becoming Marie Antoinette will utterly captivate fiction and history lovers alike."
Marie Antoinette is my favorite Queen and I will read anything about her that I can get my hands on, fiction or non-fiction, anything. I was so excited when I found this series and Juliet Grey does a wonderful job! You learn so much while reading this novel, but you're so engrossed in the story it just flies by. Like the description said, great for non-fiction and fiction lovers. Her description of Versailles makes you want to hop on a plane and go visit. If you like Marie Antoinette, or want to learn more about her, check this series (2. Days of Splendor, Days of Sorrow; 3. Confessions of Marie Antoinette) out!!
So there's this week's list! Anything you would put on your list that you didn't see here? See anything that piqued your interest?