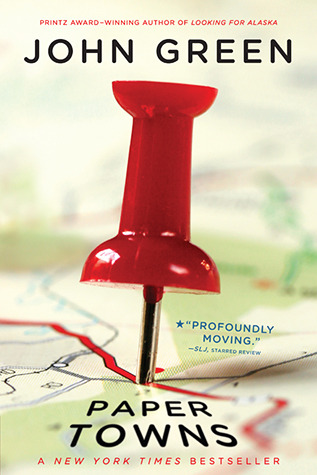 Title:
Paper Towns

Author: John Green

Type: Young Adult

Genre: Realistic Fiction

Tea: Peach Green tea, tastes good, but similar to other teas you've had before.

Rating: 4 out of 5 stars.

I was so excited to find Paper Towns on the hold shelf for me at the library, I couldn't wait to get home and crack it open. Yes it was very good and definitely started out with a bang. But to me this was a lot like An Abundance of Katherines, which isn't a bad thing, but you can see it's very formulated writing.

So far I've read 4 John Green books: The Fault in Our Stars; Will Grayson, Will Grayson; An Abundance of Katherines; and Paper Towns. I'd have to say TFiOS and WGWG are the two most different. While I enjoyed the stories from the other two, the main characters were similar. Q and Colin are the same in that they are both very smart, both graduating high school, both unsure of what they want to do and both obsessed with an unattainable girl. And both unattainable girls, Margot and Katherine, are very similar as well. But what makes it okay is each story is different. And Mr. Green's writing just makes it work.

The characters are quirky and fun. The idea of a scavenger hunt left for Q to follow is interesting. The ending is not as I predicted either. The hardest part for me was he goes through this period of feeling like he doesn't belong and looking down on what the other students his age are doing and he just sounds and feels depressed. Having gone through a period of depression myself I felt like I related to that feeling and it was difficult to get through. Sometimes when books are like that and make me feel that so strongly, I almost want to put them down. Luckily I got through it and read about the most epic road trip I've ever heard of.

Paper Towns is slightly more mature, in occurrences and theme, than An Abundance of Katherines, which makes it stand out on its own as well. I also find it interesting that Mr. Green's only female main character is in TFiOS. I think it was a nice change to see him write from her perspective. I hope he does that again in the future, to change it up a little bit from the formula that appears to exist (I hear it's also in Looking for Alaska, which I'll be reading soon).

Overall I enjoyed the book and the quirky characters and look forward to reading more of his novels and seeing what he comes up with next.