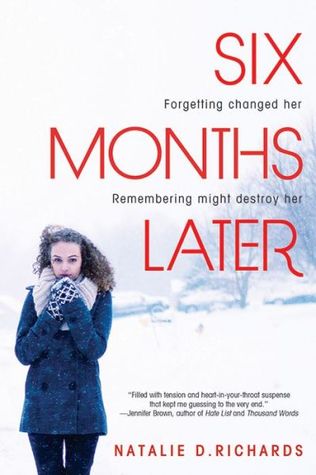 Title: Six Months Later
Author: Natalie D. Richards
Type: Young Adult
Genre: Psychological Thriller
Tea: Lemon Herbal tea, read and you'll see why
Rating: 3.5 out of 5 stars
"She has everything she's ever wanted. But not her memory...

When Chloe fell asleep in study hall, it was the middle of May. When she wakes up, snow is on the ground and she can't remember the last six months of her life.

Before, she'd been a mediocre student. Now, she's on track for valedictorian and being recruited by Ivy League schools. Before, she never had a chance with super jock Blake. Now he's her boyfriend. Before, she and Maggie were inseparable. Now her best friend won't speak to her.

What happened to her? Remembering the truth could be more dangerous than she knows..."
(Goodreads - Six Months Later)
I kept hearing so many rave reviews about Six Months Later and couldn't wait to get my hands on it. When it finally came in at the library I was super excited. I started this coming off of an awesome adult psychological thriller, so I was definitely in the mindset for another one. While this one was good, it didn't quite live up to the hype, in my opinion.
The beginning intrigued me right away, girl wakes up and doesn't remember six months of her life. What is going on? Why is she friends with these new people? How is she dating the hottest guy in school? So many questions that are begging to be answered. As the story goes on Natalie D. Richards has you quickly turning the pages trying to figure out what's going on, but soon a pattern emerges.
This pattern consists of: Chloe figuring something out, but quickly being convinced she's wrong by someone else. This girl does not stick by her convictions. I get that she doesn't remember anything, but that should instinctively make you trust your gut even more. It also consists of her and Adam constantly in a yo-yo of "I like you, but I can't". I swear the same scene happens 5 times between the two of them, even in the same location.
I also think that the answers that we are given don't quite pack the punch you expect after all the build up. The book I read before this one is still running through my head and I'm trying to wrap my mind around it, while I finished this one this afternoon and I haven't really thought about it too much.
It is a good novel, not bad by any means. The writing keeps your attention and the mystery has you going until the end. Sadly I didn't get quite what I expected. But if you're new to thrillers, this may be a good place to start.