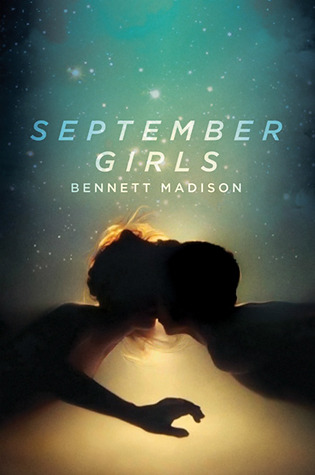 "
When Sam's dad whisks him and his brother off to a remote beach town for the summer, he's all for it-- at first. Sam soon realizes, though, that this place is anything but ordinary. Time seems to slow down around here, and everywhere he looks, there are beautiful blond girls. Girls who seem inexplicably drawn to him.

Then Sam meets DeeDee, one of the Girls, and she's different from the others. Just as he starts to fall for her, she pulls away, leaving him more confused than ever. He knows that if he's going to get her back, he'll have to uncover the secret of this beach and the girls who live here." (Goodreads)
Title: September Girls
Author: Bennett Madison
Type:Young Adult
Genre: Magical Realism
Tea: Sleepytime Tea, whimsical, a little ethereal, feels like a dream.
Rating: 3.5 out of 5 stars.
I was very excited when I found September Girls by Bennett Madison. I am a huge magical realism fan and was particularly intrigued by his use of mermaids in this manner. It also takes place, predominantly, in North Carolina, and I am a huge fan of the Carolinas, so this intrigued me even more. Perfect beach read (though I didn't get to it while on the beach, sadly).
At the beginning of the novel we meet Sam, your typical high school guy, with your not so typical family. His mom up and left them to live on a commune, his dad is freaking out and randomly uprooting him and his college age brother for a vacation at a beach he went to when he was younger.
While I enjoyed the premise of this book and trying to figure out the mystery of the beach and the Girls at the beach, it moved a little too slowly for me. I felt there was a lot of unnecessary description of things. Maybe it was to get a better feel for Sam and his brother, but I didn't quite see how that connected with the story overall. The saving grace was the magical realism element.
I liked the story of the Girls and I liked the background clues you got about them between chapters. I understand how this is a book about growing up. And how you can't just expect to find something, it comes to you when you least expect it and when you're not actively looking.
So not a bad book, but not the page turner I was expecting either.
But if you are looking for a mermaid tale with some magical realism thrown in, I highly recommend Monstrous Beauty by Elizabeth Fama.