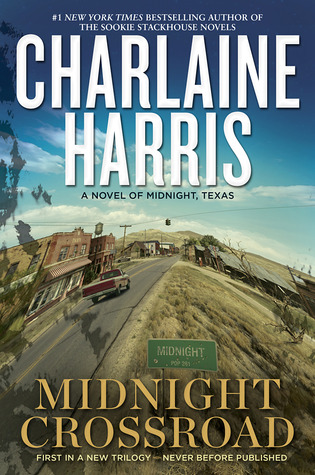 Title: Midnight Crossroad

Author: Charlaine Harris

Type: Adult Fiction

Genre: Mystery/Urban Fantasy/Paranormal Romance

Tea: Earl Grey, a good starting point, leads up to better things.

Rating: 4 out of 5 stars (originally 3.5, read the review).


So I was so excited to find out that Charlaine Harris was writing a new series. I absolutely love the Sookie Stackhouse series and am on my way to reading her others. This came in at work (the library) and I had to have it.

At first...it. Was. Slow.

You get lots of background and establishing stuff, but seriously, not too much happens till around 100 pages in. Don't give up, because once you get through that, it's worth it. I won't tell you exactly what, because I don't want to give away the surprises. But one in particular made me bump the rating up to a 4 instead.

The characters are interesting, but I really am not too big of a fan of Manfred, the main character. He grew on me a little more as the book went on, but something about him annoyed me. Maybe his weird, insta-love, crush on Creek. It was weird. Anyways...

The characters are interesting and I can't wait to learn more about them as the series continues, especially the Rev. There are lots of little teasers that there's a lot more to come.

This book does have a lot of first book symptoms, but if it's going to be like the Sookie Stackhouse series, then give it a chance. The first novel in that series didn't grab me, but I loved the rest.

If you're looking for a fun, fairly light-hearted mystery, check this one out.