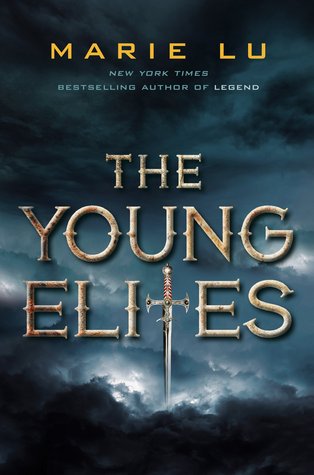 Title: The Young Elites
Author: Marie Lu
Type: Young Adult
Genre: High Fantasy
Tea: Hot water with a plain teabag that didn't sit in it for very long.
Rating: 1 out of 5 stars.
"
I am tired of being used, hurt, and cast aside.

Adelina Amouteru is a survivor of the blood fever. A decade ago, the deadly illness swept through her nation. Most of the infected perished, while many of the children who survived were left with strange markings. Adelina's black hair turned silver, her lashes went pale, and now she has only a jagged scar where her left eye once was. Her cruel father believes she is a malfetto, an abomination, ruining their family's good name and standing in the way of their fortune. But some of the fever's survivors are rumored to possess more than just scars—they are believed to have mysterious and powerful gifts, and though their identities remain secret, they have come to be called the Young Elites.

Teren Santoro works for the king. As Leader of the Inquisition Axis, it is his job to seek out the Young Elites, to destroy them before they destroy the nation. He believes the Young Elites to be dangerous and vengeful, but it's Teren who may possess the darkest secret of all.

Enzo Valenciano is a member of the Dagger Society. This secret sect of Young Elites seeks out others like them before the Inquisition Axis can. But when the Daggers find Adelina, they discover someone with powers like they've never seen.

Adelina wants to believe Enzo is on her side, and that Teren is the true enemy. But the lives of these three will collide in unexpected ways, as each fights a very different and personal battle. But of one thing they are all certain: Adelina has abilities that shouldn't belong in this world. A vengeful blackness in her heart. And a desire to destroy all who dare to cross her.

It is my turn to use. My turn to hurt." (from Goodreads.com)
This book is a joke. A big joke. But not a funny one. One of those unfortunate ones that physically hurt you when someone tells it. One that you never want to hear again and will run from if it shows up. Yes, this was that bad. I couldn't even finish it. What was bad about it, you might ask. EVERYTHING. ALL OF IT.
Adelina was boring. She was a piece of cardboard. Yes, it's terrible what her dad was doing to her. But all she did was feel sorry for herself. And then when she accidentally kills someone all she does is go on and on and on about how horrible she is. And she has the weirdest flashbacks. I just...everything in here is accidental and she just gripes about her life. She makes mopey Katniss in Mockingjay look like a ray of sunshine. I don't know. She was boring and not even remotely badass like the description says. They say it's like a high fantasy X-Men. If this was an X-Men movie, I'd be pissed.
Her "love interest" is bizarre. He's a jerk and not interesting at all. He's just an excuse to have a romantic storyline in this book. And that storyline can't even save it. Her sister was a spoiled brat and...can you tell that every character sucked?
And what kind of place is she living in? I've had authors reimagine our world and make it their own, prime example being Jacqueline Carey in her Kushiel's Universe series. You know what country it would be if it was in our world, but she makes it entirely her own and you're sucked into this amazing land. But in this book she basically takes Renaissance Italy and renames stuff. It was awful. This was NOT high fantasy. This was a train wreck.
I've heard good things about her Legend series and I will give that one a chance. But never again for this one.