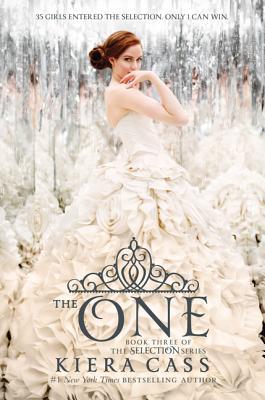 Title: The One
Author: Kiera Cass
Type: Young Adult
Genre: Dystopian/Romance
Tea: Silver Yin Zen Pearls, a step up from other similar teas, top of the line (plus silver cover!)
Rating: 5 out of 5 stars.
"The time has come for one winner to be crowned.

When she was chosen to compete in the Selection, America never dreamed she would find herself anywhere close to the crown—or to Prince Maxon's heart. But as the end of the competition approaches, and the threats outside the palace walls grow more vicious, America realizes just how much she stands to lose—and how hard she'll have to fight for the future she wants."
(from Goodreads.com)
This book is the third in Kiera Cass's The Selection series. If you haven't read the first two, be forewarned, here be spoilers for those. This book is SO much better than the first two. I, obviously, really enjoyed the first two or I wouldn't have kept reading the series. But this one blew them out of the water. The first two were a lot of set up and a lot of America going back and forth between Maxon (swoon) and Aspen (yuck!). This book brings us to the end of the Selection, and it's time for Maxon to choose a bride. If you think it's going to be easy and simple and you know what's going to happen, you're wrong.
There are so many twists and turns in this book! There are familiar faces finally brought back that really surprised me! This book made my heart hurt at some point and I'm not ashamed to say that I cried. Aspen somehow makes me sort of okay with him, but I still am in a rage over that whole situation. He's the jerk, but makes America feel like it's all her fault...Okay...I digress.
I went through a whole range of emotions reading this book: happy, sad, angry, nervous; you name it, I felt it. I read this in a day. When I finished it was really glad because I enjoyed it, but really sad since I thought it was over. Turns out it's not! There's going to be a 4th book called The Heir, but don't read the synopsis yet unless you want the ending of this one ruined.
If you enjoyed the first two, read this one, it is above and beyond those! And if you still haven't read the series, pick them up!