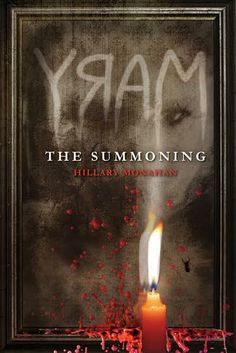 Title: MARY: The Summoning
Author: Hillary Monahan
Type: Young Adult
Genre: Horror
Tea: Haute Chocolate, something you think you know, but full of surprises.
Rating: 4 out of 5 stars.
"There is a right way and a wrong way to summon her.

Jess had done the research. Success requires precision: a dark room, a mirror, a candle, salt, and four teenage girls. Each of them--Jess, Shauna, Kitty, and Anna--must link hands, follow the rules . . . and never let go.

A thrilling fear spins around the room the first time Jess calls her name: "Bloody Mary. Bloody Mary. BLOODY MARY." A ripple of terror follows when a shadowy silhouette emerges through the fog, a specter trapped behind the mirror.

Once is not enough, though--at least not for Jess. Mary is called again. And again. But when their summoning circle is broken, Bloody Mary slips through the glass with a taste for revenge on her lips. As the girls struggle to escape Mary's wrath, loyalties are questioned, friendships are torn apart, and lives are forever altered.

A haunting trail of clues leads Shauna on a desperate search to uncover the legacy of Mary Worth. What she finds will change everything, but will it be enough to stop Mary--and Jess--before it's too late?"
(from Goodreads.com)
MARY: The Summoning is the first in a series entitled Bloody Mary. I was really excited when I saw this. I haven't read a good YA horror story since I picked up Katie Alender's Bad Girls Don't Die trilogy. Those books scared me, and I was not disappointed with this one!
The story of Bloody Mary always freaked me out anyway. I was never one of those girls that went to the bathroom and tried saying her name three times, just not worth it! So I live vicariously through books when it comes to horror, especially the stories that really freak me out. This book had such an interesting take on the story. You got Mary's back story in journal entries scattered throughout the novel, I was so excited each time I came across one, I just had to know what happened to her!
Mary's manifestation was also really interesting. Clues were given based on her appearance as to how she died, which was a lot of fun while reading the journal entries. She was also REALLY scary. She didn't just show up in mirrors, she was in ALL REFLECTIVE SURFACES. WHAT?! Like...no. I kept thinking how if she latched onto me, I'd be in so much trouble. There are reflective surfaces EVERYWHERE and I don't think I could handle that.
I also really liked the characters and the one's surprise connection to Mary. I think it was an accurate portrayal of friendship and loyalty in a messed up situation. The ending was also very surprising and had me itching for the second book once I was done! Unfortunately that will not be released until (hopefully) the fall of this year.
Definitely check this book out, but you may to want to cover your mirror.