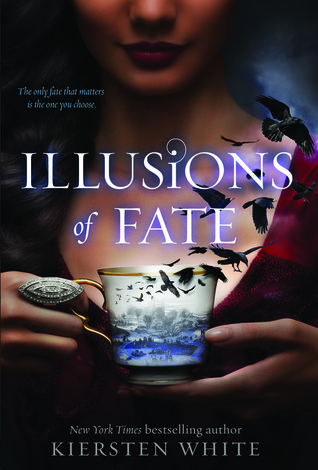 Title: Illusions of Fate
Author: Kiersten White
Type: Young Adult
Genre: Historical Fantasy
Tea: Golden Mojito, sort of good, but sort of lackluster.
Rating: 3 out of 5 stars.
"Downton Abbey meets Cassandra Clare in this lush, romantic fantasy from New York Times bestselling author Kiersten White.
Jessamin has been an outcast since she moved from her island home of Melei to the dreary country of Albion. Everything changes when she meets Finn, a gorgeous, enigmatic young lord who introduces her to the secret world of Albion's nobility, a world that has everything Jessamin doesn't—power, money, status…and magic. But Finn has secrets of his own, dangerous secrets that the vicious Lord Downpike will do anything to possess. Unless Jessamin, armed only with her wits and her determination, can stop him.

Kiersten White captured readers' hearts with her New York Times bestselling Paranormalcy trilogy and its effortless mix of magic and real-world teenage humor. She returns to that winning combination of wit, charm, and enchantment in Illusions of Fate, a sparkling and romantic new novel perfect for fans of Cassandra Clare, The Madman's Daughter, and Libba Bray."
(from Goodreads.com)
This was my first Kiersten White novel, so I wasn't sure what to expect, but the description intrigued me. The description is a liar.
First off the only thing Downton Abbey (which I LOVE) related is the fact that this girl works at a hotel. For like 2 seconds. Then suddenly she is lavishly taken care of by some random stranger. Yeahh...that doesn't happen to Daisy or Anna or any of them in Downton. Cassandra Clare could've been a warning sign, as I wasn't the biggest fan of City of Bones. Another thing that sucked me in is I loved The Madman's Daughter and I love, love, LOVE Libba Bray. The Gemma Doyle trilogy is one of my favorites! This was NOTHING like those books. A pale imitation maybe, but not much more than that.
The world confused me a bit. I wasn't sure if it was supposed to be like an alternate version of our world and where she lived was maybe supposed to be London and the island she is from is supposed to be...somewhere? It is kind of vague and you get lots of description of how crappy it was for her at home, but not much more.
This fell into every trope a YA book can fall into. Insta-love, love triangle, "my boyfriend is actually an asshole", poor-little-girl-gets-turned-into-a-"princess". Just everything you could think of. The only thing that I really enjoyed was the magical aspect. There was some actual thought put into that and is honestly what saved this book from getting a worse rating. My favorite was the book that could turn into a bird...or is it a bird that can turn into a book...? Either way, that was awesome. That bird saved Jessamin more times than not. She'd be dead without that bird.
And the ending. Oh the ending. When I was reading and saw I only had a small portion left, but nothing was resolved yet, I was worried. I didn't want to read a whole second book as this one was giving me a hard time. But I wasn't worried for the reason I should've been. This was the most hastily, sloppily tied up ending. It was a rush and a mess. It was like she just realized she needed to end the book. It did nothing for me. I was really let down.
I will try giving another one of her books a chance because they intrigue me, but this one just had too much going on and nothing really developed. It's like everything kind of started to develop, but then tapered off.
This one is up to you, but don't go in judging it from its description, you won't get that.